THE CURRENT SITUATION
CREDIT: WARM [Welcoming Alliance for Refugee Ministry]
Up to 400 Afghans will arrive in Worcester, MA.
Up to the same number will arrive to the western part of MA, oriented around Springfield.
​
Right now, they are living temporarily in tents on US military bases awaiting relocation. The US government expects to place up to 75,000 Afghans into communities around the country between now and March 2022.
While at the bases, they will receive medical screening, apply for work permits, and start the paperwork to establish their immigration status. The makeshift dwellings are no doubt better than the streets outside the Kabul airport but the goal is to move them out as soon as possible so they can start rebuilding their lives.
​
They bravely fled their country to escape the Taliban, while they had the chance. They have been traumatized, persecuted, and pushed to the brink. They have endured tremendous loss - family members, homes, jobs, savings, and all that was familiar. They will come as families, single people, and unaccompanied minors from all age brackets.
Almost all will be Muslim, mostly from persecuted sects, and some will be Christian converts. Most will come as humanitarian parolees, but others will come with Special Immigrant Visas because they worked with or on behalf of the US in Afghanistan. Others will be reunited with their family.
​
Regardless of their story, we are
here to welcome them.
WHAT WE'RE DOING
Here are a few ways for you to get involved now. We will be continually adding opportunities as we are committed to this long-term.
Donation Drive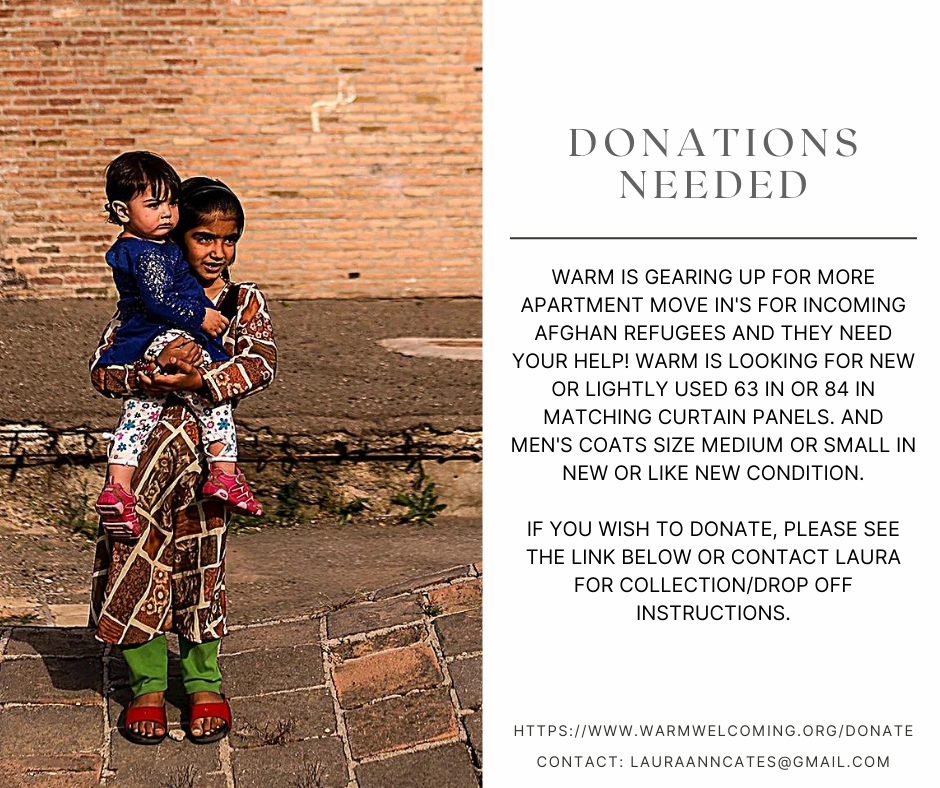 WARM [Welcoming Alliance For Refugee Ministry] is in need of donations for the expected 400 Afghans coming to Worcester! If you can donate, please find the link below for items needed or the Amazon Wishlist for items to purchase that will be directly shipped to WARM. For other items you wish to donate please contact Laura to schedule drop off - lauraanncates@gmail.com. Prayer is also greatly needed for all of these families and those involved with the response!
*Currently there is urgent need for new/like new (no stains) blankets. As well as thermos carafes, acrylic segmented serving dish with cover, clear glass tea cups, tea kettles, black and green tea and bags of nuts and dried fruits.


Training
WARM is training volunteers to come alongside Afghan families. CLICK HERE to see upcoming trainings.
Other opportunities from WARM: